Sondz: Okay. Love you.
Spicy: What the hell?
Sondz: Uhh...
Sondz: Okay. We're gonna need some help
Addfire: ADMIT I'M THE BEST THEN I'LL HELP!
Addfire burrows up from the ground.
Addfire: I'M MORE SUPERIOR THAN YOU! ADMIT IT AND I'M HELPING
Sondz: You don't look superior with that purple blister.
Addfire then notices a purple crack on him
Addfire: Well, you look bad to eat with that purple rash.
Sondz notices a purple blister as well. Then, Sondz slaps Spicy
Sondz: I should've poured milk on you sooner or later.
Addfire: Welp, I'm already know I'm better. Time to go save Ghosty's home
Addfire runs off
Sondz: Oh get your ass back here, you trans fatty
Sondz runs off after Addfire
Spicy: Oh boy
Spicy follows them
---
Ghosty, Desert, and Playful reach a herb field
Ghosty: So...one of these things should help?
Desert: Try the purple. It's the only thing not covered in poop.
Ghosty: Eh.
Ghosty takes one and rubs it on his blister. It's gone.
Ghosty: Yay. Now, we have a home to save Kid voice: WHAT DO YOU THINK YOU'RE DOING?
Desert: What in?
The kid rams Playful on the ground.
Roger: Name's Roger Troopa. You're on my playground
Ghosty: This looks like a sad place where dogs put their crap
A dog runs up and poops on the ground.
Roger: Don't matter. This is my turf, and you're on it. Pay me or get a socking.
Ghosty: I'm twice you're size. Plus, I have cohorts that won't hesistate to help me. Look, I'm not gonna waste my time fighting school bullies. You may as well let me get on with my day and save my home from terrorists.
Roger: Attackers? WOW! I ALWAYS WANTED TO SEE THAT! I mean, LIES! Prepare for a knockdown
Roger charges at Ghosty, but Ghosty picks him up and throws him in a bush.
Ghosty: Okay, let's go.
Ghosty helps up Playful and everyone moves along.
Roger: I'll be back. Remember it.
Little did Ghosty, Desert, and Playful know they had another purple blister on their leg.
Random crow: DUN DUN DUUUUUUUUN
Ghosty hits a crow with a throwing star.
Ghosty: God, crows sound a lot worse than I remember.
---
Ghosty and everyone meets at front.
Addfire: I got this
Addfire becomes a Veteran looking guy
Spicy: You sneak in. We'll provide help
Addfire walks in. He sees Coven and Town going at it.
Addfire: Goddamn, they turned this place into their own fighting ground
Everyone else charges in.
Ghosty: Everyone off now. This is a rescue.
Ghosty blows a whistle. A mass group of Kirbies drag everyone out.
Ghosty: Now that's over with
???: MWAHAHAHAHAHA
A man looking like a doctor from the black death comes down
Plaguebearer: Thanks for bringing the plague everywhere, Spicy.
Spicy: What do you mean
Plaguebearer: While you were at the shooting range, I infected you. And now, since everyone is infected with...uh...
Ghosty: A plague with no symptoms
Plaguebearer: Then, prepare to witness...
Pestilence: THE HORSEMAN OF THE APOCALYPSE
The Pestilence has a purple aura around him
Ghosty: Dude, your plague has no symptoms whatsoever. The only thing that happened is these purple blisters, which I now noticed
Crow: DUN DUN DUUUUUUUN!
Ghosty throws another star at it
Ghosty: GODDAMN CROWS!
Pestilence: That's where you're wrong
The Pestilence thrust a magic at everyone. Everyone falls on the floor in hurt
Pestilence: It's Bubonic Plague, too. So have fun suffering a horrible death
Ghosty rubs some purple herbs on him, and jumps up.
Ghosty: I had herbs.
Pestilence: You have friends, but their dead
There is corpses, a potato's skin, and a banana peel.
Ghosty: Let's dance.
Ghosty charges at it with a katana, but that did nothing.
Pestilence: Have you checked my role card
Ghosty: Ahh crap.
Pestilence: Not even you dying again and haunting me kills me.
Ghosty: Afraid of any nooses?
Pestilence: Uhh...
The Pestilence screams like a little girl and runs out. Ghosty then rubs on everyone revival herbs
Sondz: What happened
Ghosty: You and Spicy were about to wed.
Spicy: SONDZ
Sondz: SPICY
They both walk out, hand to hand
Desert: How did they both forget about their dead ship
Ghosty: I also rubbed a dose of amnesiac herbs on them
Addfire: Well, the ship is alive again.
THE END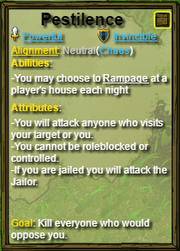 Ad blocker interference detected!
Wikia is a free-to-use site that makes money from advertising. We have a modified experience for viewers using ad blockers

Wikia is not accessible if you've made further modifications. Remove the custom ad blocker rule(s) and the page will load as expected.