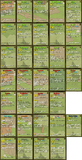 There are currently 33 roles in Town of Salem, separated into 3 categories:
Town
,
Mafia
, and
Neutral
. These include 7
unique
roles.
The official roles list provided by BlankMediaGames can be found here.
The official sub-forum for role suggestion can be found here.
Town Roles
The 15 Town roles all share the goal to "Lynch every criminal and evildoer", which includes the Mafia and some Neutral roles.
Alignment
Role Name (abbreviation)
Description
Unique

Town Investigative

Investigator

(Invest,Inv)
Investigate one person each night for a clue to their role.

Lookout

(LO)
Watch one person at night to see who visits them.

Sheriff

(Sher,SH)
Check one person each night for suspicious activity.

Spy

Listen in on the Mafia at night, and hear whispers.

Town Killing

Jailor

You may choose one person during the day to jail for the night.
yes

Vampire Hunter

(VH)
Check for Vampires each night.

Veteran

(Vet)
Decide if you will go on alert and kill anyone who visits you.
yes

Vigilante

(Vig,Vigi)
Choose to take justice into your own hands and shoot someone.

Town Protective

Bodyguard

(BG)
Protect one person from death each night.

Doctor

(Doc,Dr)
Heal one person each night, preventing them from dying.

Town Support

Escort

(Esc)
Distract someone each night.

Mayor

Gain 3 votes when you reveal yourself as Mayor.
yes

Medium

(Med)
Speak with all dead people at night.

Retributionist

(Ret,Retri)
You may revive a dead town member.
yes

Transporter

(Trans)
Choose two people to transport at night.
Mafia Roles
The 9 Mafia roles all share the goal to "Kill anyone that will not submit to the Mafia", which includes the Town, any Neutral Killing roles and Vampires.
Neutral Roles
The 9 Neutral roles each have different goals, and some of those are compatible with the goals of the other teams, meaning that some of these roles are able to win alongside them. It's worth checking the goal descriptions to see who you can potentially ally with as a Neutral.
Upcoming Roles
Release status: Public Test Realm | Confirmed | Mentioned
| Role Alignment/Category | Role Name | Status |
| --- | --- | --- |
Notes
People often type out their role's in-game description to prove their innocence. This is not cheating, but looked down upon.[1][2][3][4] This strategy will be nullified, as BlankMediaGames plans on making all role cards visible from inside the game.[5]
Becoming a certain role is entirely up to chance, depending on the list of your game mode. Scrolls allow you to increase or decrease these chances.
References
Ad blocker interference detected!
Wikia is a free-to-use site that makes money from advertising. We have a modified experience for viewers using ad blockers

Wikia is not accessible if you've made further modifications. Remove the custom ad blocker rule(s) and the page will load as expected.